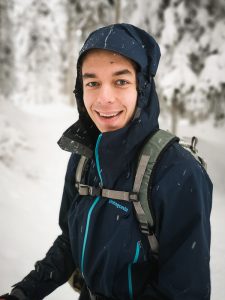 Tour guide
Moritz lives in Innsbruck and studies physics. If you know him, you definitely know about his connection to nature, which he expressed i.e. by founding an environmental youth organization at the age of 16.
Often, he goes outside in the evening to look for a place to sleep in nature. Usually with a sleeping bag, sometimes he just builds a protecting shelter from nature materials.
His biggest passion, besides climbing, is trekking, several thousand kilometres have been covered by him on hiking tours in numerous countries. He has accomplishes trainings in the wilderness field at wilderness school "Wildniscamps" in the Almtal valley and starts to work as a coach there.
His first tour with Fernwind goes to Norway, into the vastness of the Hardangervidda plateau.
Tours: Norway
Languages: German, English, Spanish