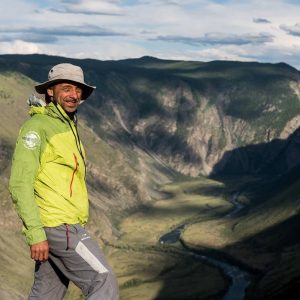 Our photographer and adventurer.
Dima is a world renowned expedition photographer, nature conservationist, and adventurer from St. Petersburg. For 9 years he worked as a helmsman and photographer on the Greenpeace ship called Green Warrior.
He was the official expedition photographer of the Mike Horn Young Explorers Pangaea Project. From 2008-2012, he sailed around all continents, together with the South African/Swiss explorer Mike Horn, and different teams of young people, showing them the wonders of our planet. The aim of the project was to spread awareness and support sustainability and the protection of the environment. After each successful expedition, the team members had grown ambassadors for the environment in various other projects. In 2017, Dima came back from the South Pole where he had accompanied Mike on the Pangaea ship on his solo-crossing of the Antarctic.
For more than 20 years, Dima supported, accompanied, and organized numerous expeditions, as a photographer, helmsman, and dive master. He took photos under water, high up in the mountains of the Karakorum, in deserts, and in snow, while riding a horse or climbing up a vertical mountain face.
As the most experienced adventurer of our team, Dima has got to offer priceless knowledge and expertise for carrying out our expeditions.
Expeditions: Husky, Kamchatka, Armenia
Languages: Russian and English